Outdoor Venetian blinds: contemporary and clean look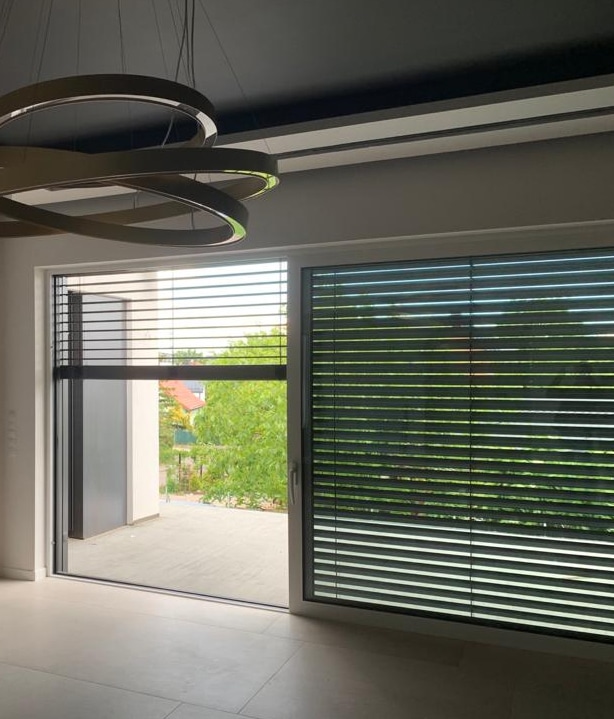 Contemporary and clean look
Using outdoor Venetian blinds is one of the most effective ways of providing stylish sun protection; it is the perfect combination of functionality and design.
They offer an optimal thermal comfort with a focus on privacy
Outdoor blinds block heat radiation optimally, but at the same time let in light. You can determine the desired amount of light incidence yourself by adjusting the tilting slats. By reflecting the sunlight on the slats, you save on the costs of cooling the interior. In the fully closed position, the exterior blinds function as blackout blinds.
In addition to heat and light, you can also control the visibility to the outside. You can enjoy perfect privacy at any time of day.
Our outdoor blinds are offered motorised with control and programming. They are made of high-quality aluminium, which makes them extremely weather-resistant. The lateral guiderails also guarantee an optimal wind resistance. Depending on external factors and your style requirements, you can choose between corrugated C-slats and Z-slats. Suitable for new buildings as well as for renovations due to its different mounting options. Available in various RAL colours.
Advantages outdoor blinds (summarized)
solar / thermal protection
increases privacy
aesthetic
soundproof
waterproof material
adjustable
UV-resistant
Durable