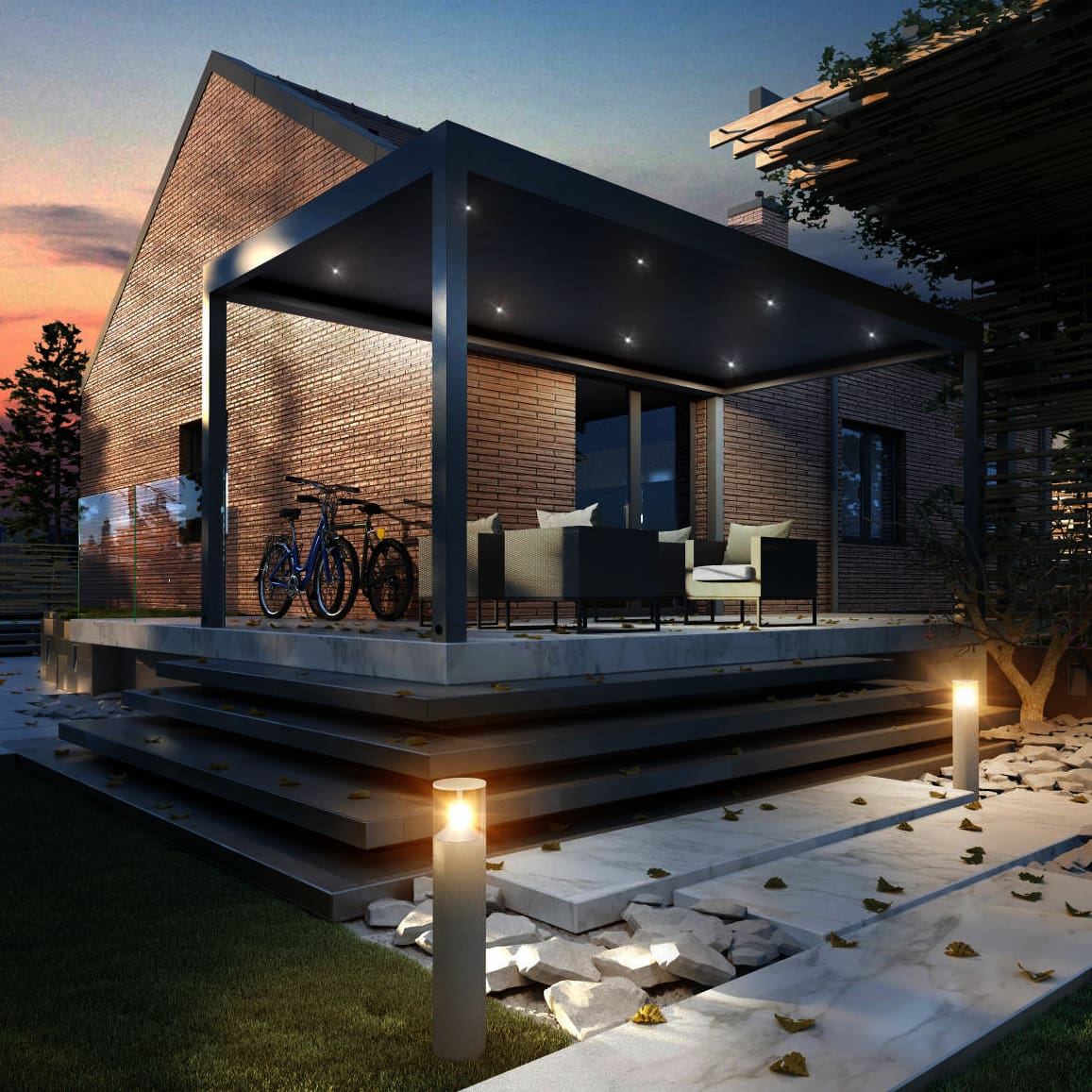 Modern and minimalist design with advanced technology
The pergola Amber is modern, minimalistic in design and features advanced technology for your ultimate convenience. With the endless possibilities of customization, you transform Amber into your favorite outdoor living space. With Amber, you can enjoy your garden or terrace all year round!
Colours
All RAL colours (more than 200 colours) in powder coating.
Some popular colours:
Aluminium grey - RAL 9007
Anthracite metallic - RAL 7016
Key features:
Top quality and durability - Solid construction. 100% aluminium.
Advanced roof technology - The roof consists of aluminium slats with a large rotation range from 0 to 135 degrees. Smooth adjustment of the slat angle provides full control of sunlight, natural ventilation and free air circulation.
Weatherproof - In a closed position, the roof is resistant to rain and water is drained away by a hidden integrated gutter system. Amber is resistant to UV rays, extreme temperatures and atmospheric factors including wind speeds up to 120km/h and snow loads up to 120kg/m².
Made to measure - Modular connections make it possible to cover a large area with the pergola. The minimum number of support poles allows optimal utilisation of the covered area.
Endless customisation possibilities
In addition to the standard equipment, you can choose from an extensive catalogue of supplementary products that allow you to decorate your Amber entirely according to your own wishes. Spotlights or LED strips provide light and cosiness in the dark. Equipped with glazing, blinds and heat radiators, you can transform Amber into a modern alternative for your winter garden.
Lighting
High-quality LED spots or strips allow you to make free use of the pergola in the evening or at night. The LED spots are integrated in the aluminium profiles in the roof and the led strips are mounted on the frame. The wiring is aesthetically hidden. By means of a remote control, you can regulate the light intensity and, in the case of RGB LED lighting, the light colour. The LED spots and strips are completely weatherproof.
Heating
The discreet energy-efficient infra-red heaters provide comfortable warmth immediately after start-up. This heating method is ideal because it will warm you without heating other objects under the pergola.
Screens
Outdoor solar shading offers you shade and protects you from heating, sun and wind. A wide range of outdoor solar shading systems can be fitted to your Amber. We offer a wide selection of fabrics that are fully weatherproof. The screens are motorised and operated by remote control.
Glass panels
The system of sliding glass panels combines functionality and elegant design. A glass wall gives the feeling of proximity to nature while still protecting you from the weather. This is the investment that allows you to enjoy the beauty of nature almost all year round. It fits into any architectural context and can be installed in various ways.